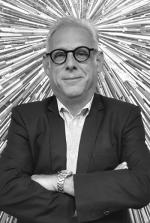 Greatest Hits
Anthony Baratta is one of the industry's most original and prolific interior designers, possessing both an iconic style and an impressive body of work that spans more than three decades. After graduating from Fordham University with a degree in art history, Baratta partnered with William Diamond to form Diamond Baratta Design, a firm whose colorful and luxurious interiors garnered countless editorial placements, including more than 40 magazine covers.
This spring, Baratta's career is chronicled in a new "greatest hits" furniture collection from Thomasville Furniture. Look for upholstery, case pieces, accent furniture and mirrors in the designer's signature East Coast-chic style.
Home Fashion Forecast:  Tell us about the origins of your collection for Thomasville.
Anthony Baratta: I've been doing interiors for 35 years, and I've designed hundreds of rooms during my career. So when we started the design process, we pulled a lot of furniture pieces I had created for those projects — I like to say the collection is a compilation of my greatest hits. Some of the pieces were originally crafted by the best cabinet makers and the best upholsterers in the world. 
The folks at Thomasville were able to recognize this and then actually replicate the quality. It's very cool.
HFF: What made Thomasville your top choice for a licensed furniture collection partner?
Baratta: It's a great American brand, and I felt it was a very good match. Their product is really, really well made, compared to a lot of other furniture companies. Thomasville takes great pride in what it does, and I'm excited to be a part of that tradition. The people at Thomasville took this collection to a level I never expected. 
HFF: Your interiors are famous for their graphic clarity and brilliant use of color. Do you worry that those very qualities might be lost in translation?
Baratta: You may think when you start a project like this that it's going to be a watered-down version, but it's not. The Thomasville pieces are so good and so chic, I would use them in my own projects. I'm looking forward to seeing how it all comes together in the showroom.
HFF: Does the collection skew more traditional or more contemporary?
Baratta: It's a big mix. There are close to 50 pieces, and they range from the more traditional — there are two wing chairs that are spectacular and some tufted furniture that looks great — to more contemporary items. There's even a nautical kind of vibe in part of the collection, because we're kind of famous for this look. There are influences from the '40s, the '60s, and the '70s. Like my work, it's a big, wide range. I was happy to see the diversity. I have no problem using a '70s-inspired bookcase with a '40s-inspired sideboard. It's what I like to do.  
HFF: With more than three decades of design behind you, how did you go about whittling down your choices? 
Baratta: The things that the people at Thomasville loved are also the things I embrace. They are part of my DNA. For example, the red wing chairs are a signature of mine. Then there are other things that are popular in the market right now, so we addressed those kinds of pieces in the collection as well. Stand-alone bars are popular. Multifunction pieces are popular — something that could be used as a dresser in a bedroom, but also as a sideboard in the dining room. Some of the sofas are amazing because they can go from a regular sofa to a sectional. There's also something like a curio cabinet and a bachelor's chest. It sounds a little "old," like something from when we were kids, but the versions we did are just fantastic. The bedroom case pieces are also very stylish.
HFF: What kind of finishes did you use on the casegoods? Did you also design fabrics?
Baratta: Most of the finishes are a warm, brown cerused oak, which is very, very lovely and works with contemporary and traditional. I selected the fabrics, but I didn't design them. 
HFF: Your interiors are so optimistic and happy. Does this mood come across in the collection? 
Baratta: Thank you — I like to create happiness for people! I don't really take decorating as seriously as some people do. I think it should be fun. I don't take myself so seriously, so maybe that's why my aesthetic works. I'm hoping the collection presents this way.
HFF: Is there much color in the Thomasville collection? 
Baratta: There's a lot of color. It's very true to what I'm thinking about and doing now. I'm putting bold colors with a lot of neutrals in my projects now, which is a divergence for me. When it comes to the collection, it's right on target with what I like and what I'm doing now.
HFF: Which colors are you using?  
Baratta: There's red, there's blue, there's a lot of white. It goes from more formal looks to the much more casual and nautical. The wing chairs are going to be shown in the happiest red color. Another pair will be on the floor in a white matelassé, which is also really, really me.
HFF: When the collection rolls out at retail, will the merchandisers make it look like Anthony Baratta was here?
Baratta: Yes, it is planned to have that Anthony Baratta vibe. 
HFF: What other home décor categories are you designing that a homeowner could purchase to create an Anthony Baratta environment?
Baratta: Right now, we're designing bedding for a company called Wildcat Territory, which does all the bedding for Thomasville. But this is a separate license and the bedding will be sold all over, not just through Thomasville. We also have a collection for Lee Jofa and a collection for Stark. We will be starting up again doing rugs and fabrics. 
HFF: We also hear you are working on licensing agreements in the tabletop, lighting and art categories. Is there anything rolling out in those areas this spring?
Baratta: They will come — after the furniture.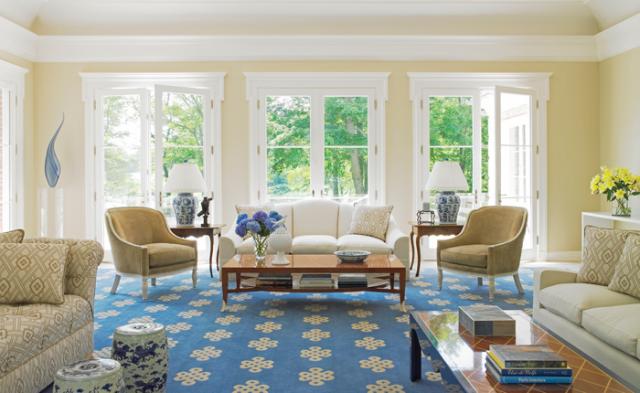 Anthony Baratta says his collection for Thomasville skews slightly contemporary, like the pieces in this room, which he designed and is the inspiration for the collection.
HFF-Designers,HFF-Product Designers